Personalised Pet Portraits
Spruce up your space with a modern, custom illustrated print of your beloved pet. In three easy steps: snap, send & receive! Once your order is placed, please allow us 5 business days to have your artwork complete, printed, framed and ready for dispatch. We'll notify you as soon as your order is being shipped from Melbourne. 
Why Us?
✓ We're a small, Aussie based business 
✓ Wood framed & glass inserts (most of our competitors use perspex)
✓ Fast & friendly customer support
✓ Printed, framed & dispatched in house
✓ FREE Shipping Australia Wide
Photo Guide
Your happiness is important to us, therefore, it's important to note that the image you upload is what will determine the quality of your final portrait. Your image should be taken with a smart phone or a high quality camera. 
✓ Take photo in a well lit room or natural light
✓ Avoid shadows
✓ Pets neck/upper chest is present in image 
✓ Take image from eye-level where possible
✓ Side angled images may not be approved
Artist Information
Our team of artist will draw your pets head and upper chest only and will include accessories such as bows and collars unless requested to be removed upon customising your portrait. Our artists will replicate your exact image that is uploaded. If there is no upper chest present in your uploaded image, our artist will add the chest to the best of their ability to align with the portrait. 


 Good 
• Clear image
• Nice lighting
• Chest appears in image



 

B

ad
• Pet laying down
• Dog not looking at camera



 

B

ad
• Pet laying down
• Pets eyes not open
• Hand covering share of pets head
If you are unsure if your image is up to standard, please contact us via our Live Chat or email us at support@shopbarkify.com
Customer Reviews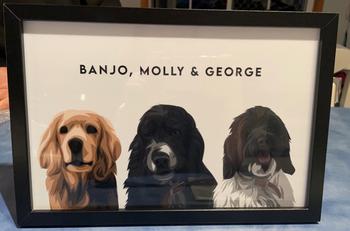 02/09/2021
Wow!
We got a picture done of our 3 dogs who have passed away and the quality was amazing! Our dad said it was the best Father's Day present he's ever received so thank you.
Alanna P.

Australia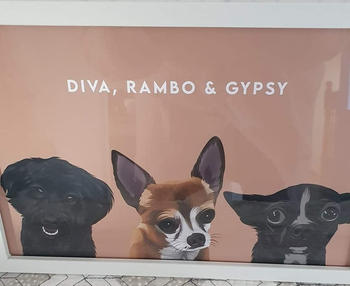 09/08/2021
Great picture and service
I got a picture of my mums 3 dogs. 2 of them had passed away so when I gave it to her for her birthday she was over the moon. The picture looked exactly like her pups. So so happy
Nikki S.

Australia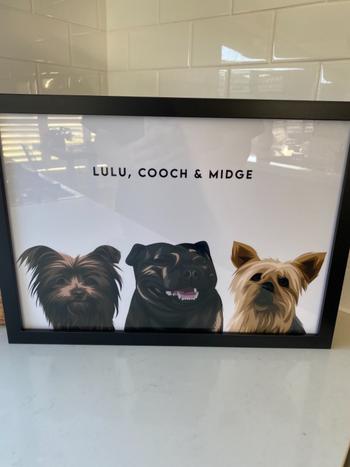 26/05/2021
3 pet portrait
Fantastic! I was extremely happy witch the portraits and customer service was amazing!
Jade P.

Australia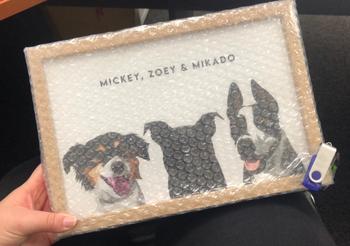 26/04/2021
Excellent!
The overall experience working with Barkify was amazing. I had previously contacted Barkify in regards to the photos I was choosing to make sure they were up to their guidelines and that they could be used. They got back to me in a quick manner and I was able to use the photos! When I ordered the item, it was quickly made and was sent and got to me in perfect condition. I am overall happy with the product, as it is a birthday present for a friend and one of the dogs on the frame was her dog that she grew up with, and has passed away. I am sure she would be over the moon that all three of her dogs can be together. I can't wait to order more from Barkify!
Tasma H.

Australia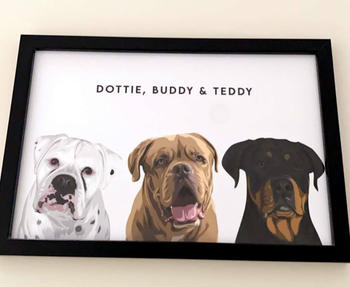 28/03/2021
Loved it!
Absolutely loves my pet portrait! I was worried one of the photos I sent was too dark and poor quality but it came back amazing! So adorable. Would 110% recommend
Bobby W.

Australia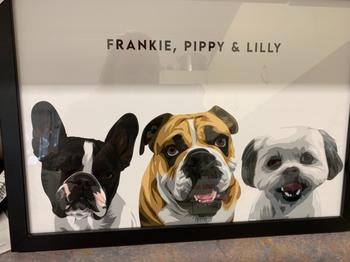 21/03/2021
Exceeded my expectations
Couldn't be happier with the service, postage was quick and product looks fantastic. Couldn't be happier
Emma W.

Australia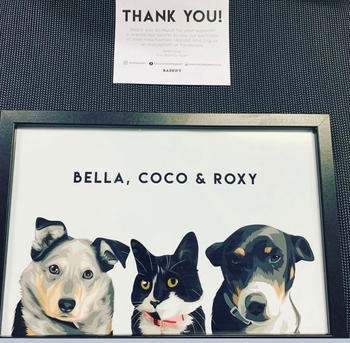 28/08/2020
AMAZING
I ordered the 3 pet portrait for my husband and was amazed at how accurate it was,it is the cutest portrait and I have shown many people who now want to also do it. I would highly recommend Barkify
Laura D.

Australia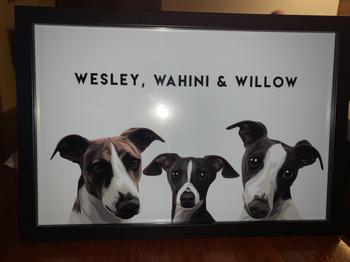 31/07/2020
LOVE..LOVE..LOVE!!!
Thank you Barkify for my beautiful portrait of my 3 furbabies. I am so in love with it and they look just gorgeous and couldn't be more happy with it. Great quality portrait and would highly recommend Barkify. Thanks again from a very satisfied customer ❤️
Leanne P.

Australia
Thank you for your review Leanne! We're thrilled to hear you love your portrait! ❤️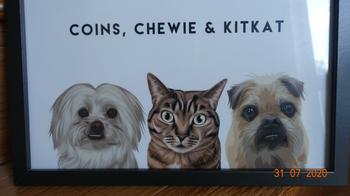 31/07/2020
3 out 4 portraits were lovely
A friend of mine gifted me one of these pet portraits from a different vendor. I decided to get portraits done for the rest of the pets through Barkify during their 50% promo. I got a total of 4 portraits done.Very happy with 2 of them, 1 is ok but made our boy look a bit he has alien eyes and the 4th one I'm not happy with as our girl's fur isn't defined enough and she looks too cartoon-like. Given the price and quick turnaround, I can't complain. When recommending to friends I have advised them to look around at other vendors if they don't like cartoony looking portraits.
Hayley V.

Australia
26/08/2021
Recent purchase
My only criticism is I wish there was a larger size then A3! Just wish it was bigger
Brianna C.

Australia