Proudly Australia's Favourite Custom Pet Portraits
Custom Pet Portraits
Upload your image.
Choose your favourite photo of your pet and we'll turn it into a work of art!
Choose your style.
Make it yours. Select your frame, size and background colour to suit any space.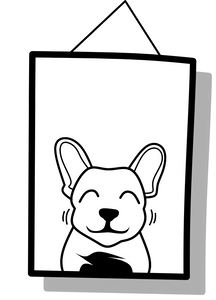 We'll do the rest.
Our art team will start creating your artwork. We'll have your artwork shipped within 3-5 business days.
FAQ
Do you only illustrate dog portraits?
Whether they're covered in fur, scales, or something slimy, we're all about celebrating pets of every kind! From adorable dogs and cats to colourful fish, cuddly guinea pigs, chirpy birds, majestic horses, and beyond, we've crafted pet portraits for a whole range of creatures.
What are the photo requirements?
We're quite flexible with the images you provide. We understand all circumstances are different and photos may be limited. Need a hand with your photo selection for your pet portrait? Reach out to our friendly team and we will promptly review your image before you order. 
How long will my pet portrait take to arrive?
Our goal is to work our creative wizardry and have your portrait ready for dispatch within a snappy 3-5 business days. When it comes to our portraits, we take pride in printing and framing them here in Melbourne.
Am I able to download the pet portrait? 
We've got a digital download option for all our pet portraits which will arrive on a USB with your pet portrait.
What are the quality of your frames?
We take great pride in the quality of our frames. Unlike our competitors, we use high-quality frames with glass inserts that are built to last.