After a Human & Pet Digital Portrait to print yourself? Click HERE.
Personalised Pet Portraits
Spruce up your space with a modern, custom illustrated print of your beloved pet. In three easy steps: snap, send & receive! Once your order is placed, please allow us 5 business days to have your artwork complete, printed, framed and ready for dispatch. We'll notify you as soon as your order is being shipped from Melbourne. 
Why Us?
✓ We're a small, Aussie based business 
✓ Wood framed & glass inserts (most of our competitors use perspex)
✓ Fast & friendly customer support
✓ Printed, framed & dispatched in house
✓ FREE Shipping Australia Wide
Photo Guide
Your happiness is important to us, therefore, it's important to note that the image you upload is what will determine the quality of your final portrait. Your image should be taken with a smart phone or a high quality camera. 
✓ Take photo in a well lit room or natural light
✓ Avoid shadows
✓ Pets neck/upper chest is present in image 
✓ Take image from eye-level where possible
✓ Side angled images may not be approved
Artist Information
Our team of artist will draw your pets head and upper chest only and will include accessories such as bows and collars unless requested to be removed upon customising your portrait. Our artists will replicate your exact image that is uploaded. If there is no upper chest present in your uploaded image, our artist will add the chest to the best of their ability to align with the portrait. 

 Good 
• Clear image
• Good lighting
• Looking towards camera



 Bad

• Head cut out at top
• Heavy shadowing



 

B

ad
• Both human and pet not looking at camera
• Pet too far away from human
If you are unsure if your image is up to standard, please contact us via our Live Chat or email us at support@shopbarkify.com
Customer Reviews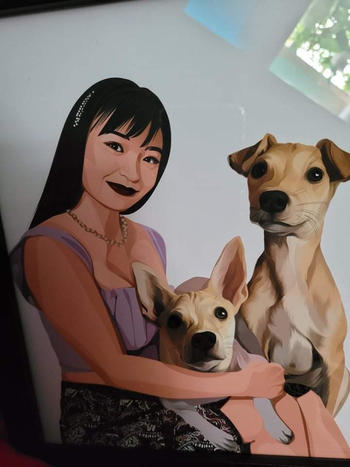 12/10/2021
Such amazing work!
Amazing - the Barkify team never fails to blow my mind with their creativity, they are able to create such beautiful pieces. I know that if I am gifting someone a Barkify piece they will be so pleased and love it!
Czarina P.

Australia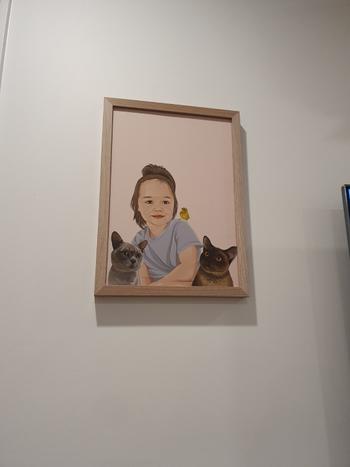 09/09/2021
Fantastic Customer Service... Highly Recommend
Great! Dylan was extremely helpful and patient when I was ordering my paw-trait. The initial online submission was easy to follow. I have already boasted to all my family and friends who have seen the Barkify Art in our living room and I know they'll be placing an order! Thank you so much
Ann-Marie C.

Australia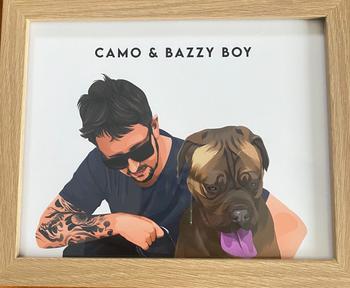 06/09/2021
Highly recommend!
I was so impressed with Barkify from beginning to end. They had the proof to me quicker than anticipated, no changes were needed as it was perfect. Delivery was fast and my partner absolutely loved getting this print for fathers day. We have had numerous people comment on how great it was since he posted it on social media and ask where it was done. I would definitely recommend :)
Melissa C.

Australia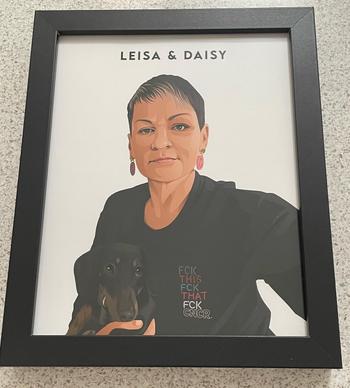 19/08/2021
Treasured Picture
Absolutely blown away by the lovely portrait of myself and my fur baby Daisy. The customer service was exceptional and I was kept informed at every stage of the process. I highly recommend Barkify.
Leisa S.

Australia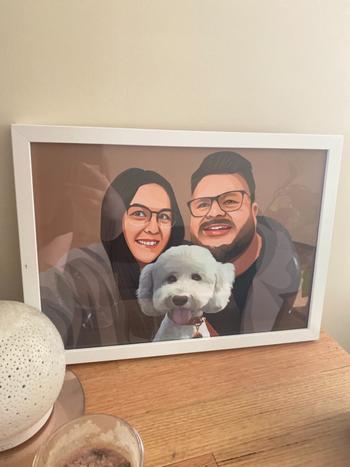 16/08/2021
So happy!
Extremely happy with my human and pet custom portrait! Have gotten so many compliments on it! Customer service at barkify is excellent, happy to help with any queries I had!
Kahyla G.

Australia
09/09/2021
Love it!
Dylan was very helpful and I love the end product! Everyone I have shown wants their very own print now!
Bianca B.

Australia
10/08/2021
Very happy
Was amazing, the process was quick and easy and the quality of work was amazing
Candice M.

Australia
04/08/2021
Bec
My friend loved the print thank you!
Bec S.

Australia
24/07/2021
Amazing!!!
So pleased with the results! Was such an easy process and turned out awesome. My boyfriend loves it
Cristina G.

Australia
29/06/2021
Love it
I look at it everyday and it brings a smile to my face because it's perfect
Cristina S.

Australia